Hi everyone! So I didn't get the design up yesterday because the sun was lowering by the time I got done and clean-up was a little frustrating. And yesterday was my dad's birthday, and today is his birthday dinner at my grandma's, so I had to make sure the design was good. With that being said, here are the designs!
I took 4 different pictures to show you the different angles and how the light affects the photos. It's the prettiest design I've done, but it's hard to capture.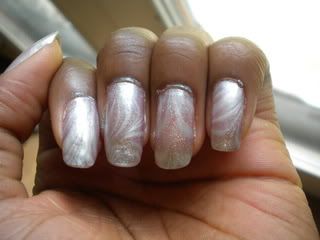 The base I used is Nicole by OPI in Imagine If..., which is a beautiful, silver holo. It's sheer enough to be used as a top coat, but can be dense enough in two coats to have good coverage. For the water marbling, I used Sally Hansen's Sheer Magic, a sheer white, and Sinful Colors' Let Me Go. I truly underestimated Let Me Go because I never knew how pretty it was. It's a gorgeous, sheer purple, but it has this awesome blue-ish, gold-ish, green duochrome. It's just so awesome, I can't stop writing or talking about it. In the previous picture, I wanted to show you the purple and white swirling together, and you can see some the holo underneath. Also, my middle finger got a bit messed up because I couldn't see around my hand when I was cleaning up the water. So sad.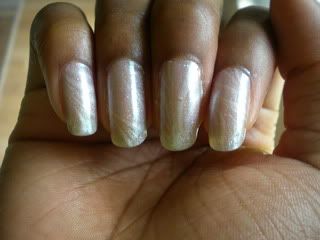 In this photo, I wanted to show the duochrome, which you STILL can't even see the full effect. It's mind-blowing. Just purely mind-blowing. If you do not own Let Me Go, you need it in your collection. Truely amazing.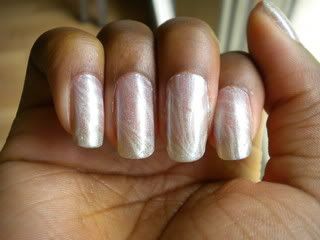 This photo is here to see the white lines more clearly, as well as the fine holo underneath. And I somehow bumped my middle finger. ):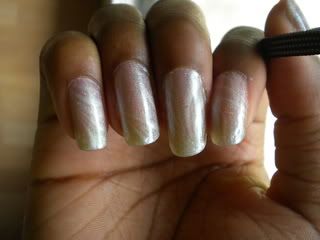 Finally, the last picture, again to show you some of the duochrome and the holo underneath. It's just so freaking amazing, I will wear it for weeks. Again and again and again and again, I'd wear it 100 times.
That's the design I wanted to show you guys, and I definitely stepped out of my comfort zone on this. My honest opinion, I think layering duochromes on top of holos look so pretty together! It's almost like it's a surprise of some sort and it really fools the eye. That's all I have for you guys! Please leave comments, subscribe to me, and follow me on Twitter at cm4ri3!